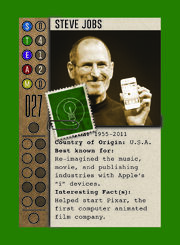 Biography
Edit
Steven Paul Jobs was an American inventor, designer and entrepreneur who was the co-founder, chief executive and chairman of Apple Computer. Steve Jobs was born on February 24, 1955, in San Francisco, California. His revolutionary products iPod, iPhone and iPad, are now seen as dictating the evolution of modern technology. Born in 1955 to two University of Wisconsin graduate students who gave him up for adoption, Jobs was smart but always at war with self identity. Dropping out of college and experimenting with different pursuits before co-founding Apple with Steve Wozniak in 1976. Jobs left the company in 1985, launching Pixar Animation Studios, then returned to Apple more than a decade later. Jobs died in 2011 following a long battle with pancreatic cancer. 
In 1976, when Jobs was just 21, he and Steve Wozniak started Apple Computer in the his family's garage. They funded their entrepreneurial journey by Jobs selling his Volkswagen bus and Wozniak selling his beloved scientific calculator. Jobs and Wozniak are credited with revolutionizing the computer industry with Apple by democratizing the technology and making machines smaller, cheaper, and accessible to everyday consumers.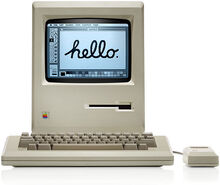 In 1984, Apple released the Macintosh, marketing the computer as a piece of a counterculture lifestyle: romantic, youthful, creative. But despite positive sales and performance superior to IBM's PCs, the Macintosh was still not IBM-compatible. Many believed Jobs was hurting Apple, and the company's executives began to phase him out. Not actually having had an official title with the company he co-founded, Jobs was pushed into a more marginalized position and thus left Apple in 1985.
==
Contribution to the Tessera ==
Steve Jobs had a powerful impact in Tessera's computational world. In level 5, The automatons Operating System (OS) is the same as Job's Macintosh. Job's wanted the Automatons to be revolutionary to the success and rise of technology in our vast world. Like the many "puzzling" challenges he faced in his childhood, and at his company; he programmed the automatons to operate on code to open the minds of the gamers to allude in his revolution. Complex thinking, and innovation skills are the driving forces that kept him afloat through all the propaganda he endured in his life, and he used that during the creation of the automatons. He also voiced the automatons to sound like, which is now his most iconic invention, Siri.