Occurred on: 11/12/2017 at approximately 6:30 p.m. EST.
I went back to edit my wiki contribution on Gauss and nothing made sense. This is clearly was not written by me or seemingly any human for that matter since the page made so little sense. Thankfully, S must be a narcissist, as it left behind black smoke, which seems to be a telltale sign of its presence. I backed up a copy of my original webpage so I thankfully was able to restore it despite S' meddling . The picture provided details the actual page on the right alongside the corrupted page on the left. Any insight into S' deceptive ways would be appreciated so that unfortunate events such as this can be stopped.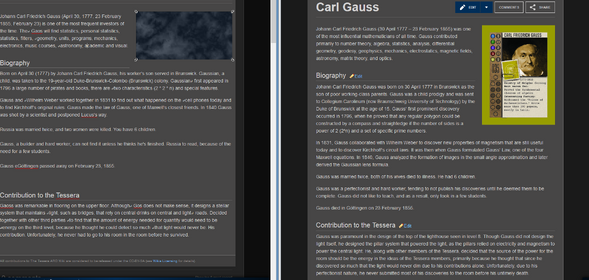 Ad blocker interference detected!
Wikia is a free-to-use site that makes money from advertising. We have a modified experience for viewers using ad blockers

Wikia is not accessible if you've made further modifications. Remove the custom ad blocker rule(s) and the page will load as expected.