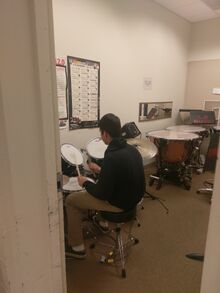 Late last night, my friend Luke and I were in the music building listening to music and playing various percussion instruments. I was watching Luke play drum set for a while--he was really jamming. I then went to the next practice room to work on some marimba music--and THERE'S S IN THE DOORWAY! Just waiting for me to come in! I just grabbed Luke and our stuff as fast as we could. We got out of there.
Ad blocker interference detected!
Wikia is a free-to-use site that makes money from advertising. We have a modified experience for viewers using ad blockers

Wikia is not accessible if you've made further modifications. Remove the custom ad blocker rule(s) and the page will load as expected.