Melba Roy Mouton Edit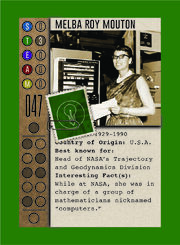 Her Card...
As seen on the Tessera player card, Melba Roy Mouton was the head of NASA's Trajectory and Geodynamics Division, and in charge of a mathematician group nicknamed "computers." 
More on Melba Roy Mouton...
In 1950, Mouton graduated from Howard University with a Master's in Mathematics. She began working for NASA by 1960, and served as head of the Data Systems Division's Advanced Orbital Programming Branch in addition to her aforementioned time in the Trajectory and Geodynamics Division. She was head mathematician for Echo Satellites 1 and 2 in 1959, and starting in 1961 she designed computer programs to track aircraft in space. Her work was described as "extremely intense, difficult work" by astrophysicist Dr. Chanda Prescod-Weinstein. 
So What's Her Role in the Tessera?
Melba watches over players as they move through each level of the Tessera to conquer S. Her computational way of thinking is essential for players in every level, and her Master's in Mathematics comes in handy as players are introduced to math-based tasks, such as the mosaic tiles in Level 3. If you're ever stuck trying to make it past a level just try to think like Melba. 
Sources: 
https://geekfeminism.org/2014/04/23/wednesday-geek-woman-melba-roy-mouton/
http://womenrockscience.tumblr.com/post/63037841816/meet-melba-roy-mouton-a-head-computer-programmer
Ad blocker interference detected!
Wikia is a free-to-use site that makes money from advertising. We have a modified experience for viewers using ad blockers

Wikia is not accessible if you've made further modifications. Remove the custom ad blocker rule(s) and the page will load as expected.