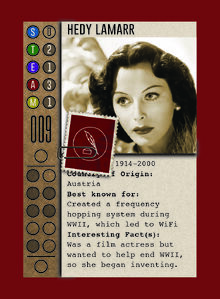 Biography
Hedy was born Hedwig Eva Maria Kiesler in Vienna, Austria (the Austro-Hungaria). She is best known for being an actress but was also a talented inventor.
In 1933 at age 18 after a short career in European film and theater Hedy married Friedrich Mandl. This was to the dismay of Hedy's Jewish parents because Mandl was known to have relations was Mussolini and Hitler. The marriage was short-lived and in 1937 Hedy moved to Paris and shortly after Hollywood.
During her time in Hollywood Hedy starred in over twenty films opposite of stars such as Clark Gable and Spencer Tracy. Hedy was one of the few European actresses who emigrated from Nazi occupied companies that was not only able to find refuge but stardom in America.
Hedy was more than just an actress she was also an inventor. Even though she was self-taught she had a knack for innovation that caught the eye of the Tessera. During WWII Hedy was inspired by the knowledge she learned about torpedoes during her first marriage to create a machine to scramble frequencies of radio-controlled torpedoes. She teamed up with friend and composer to create the frequency-hopping system. On August 11, 1942 Hedy was officially inducted to the Tessera and her invention was granted a patent.
She was granted the Electronic Frontier Foundation Pioneer Award and the Bulbie Gnass Spirit of Achievement Bronze Award in 1997, and became a member of the National Inventors Hall of Fame in 2014.
Contributions to the Tessera
Hedy used what she learned while building her frequency-hopping system to use radio-waves to track S while the ghost of Ada Lovelace and other key Tessera members repaired damages on Babbage's occulting light.
Hedy had her own run in with S in 1949 at the premiere of her most famous movie, Samson and Delilah. S sabotaged the projectors in the movie theater, but Hedy foiled its plot and was able to put her mechanical skills to use and fixed the projector.