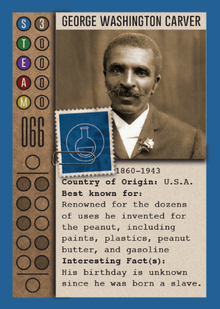 George Washington Carver was a famous scientifst and inventor despite being sold into slavery a week after birth. Born during the Civil War Era, Carver was admitted to Highland College in Kansas. However, his admittance was revoked one the College realized that he was black.
Carver began studying at [College in Iowa] in 1890. His passion for art and music caught the eye of one particular professor, who suggested he join the botany program at Iowa State.
Two of Carver's Iowa professors, impressed by his work ethic and skill, persuaded him to pursue a master's degree. During this time Carver established his reputation as a solid botanist and scientist. He participated in a multitude of important research, most notably his research with peanuts. Carver is also known for his teachings at Tuskegee University.
Carver came up with over 100 products that can be made from peanuts. Some of these are plastic, peanut butter, gasoline, cooking oil, hand lotion, and dyes (to name a few).
Even though he died in 1943, Carver's spirit lives on...his ghost is helping us discover how to beat S once and for all. Carver has been spotted touching plants and guarding them from the wrath of S...
References:
http://www.biography.com/people/george-washington-carver-9240299#rise-to-prominence
http://www.history.com/topics/black-history/george-washington-carver
http://www.tuskegee.edu/about_us/legacy_of_fame/george_w_carver/carver_peanut_products.aspx