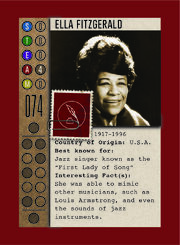 Ella Fitzgerald
(1917-1996) was a talented, independent, female musician so it's no wonder she's a member of The Tessera. She is one of the main pioneers of jazz music. She has performed with many of the greats of music like Frank Sinatra, Benny Goodman, Duke Ellington, and Louis Armstrong. Being a child of divorce, she had a rough childhood growing up with just her mother, but she made something out of nothing and went on to win 13 Grammys as well as being the first African American to win both the best individual jazz performance award and best female vocal performance award. The Tessera is very lucky to have Miss Fitzgerald on their side.

Contributions to the Tessera:
Ada recruited Ella to be a member of The Tessera because of Ella's contribution to feminism. She may not be a STEM genius, but she is a music genius. Ella's voice is a wonderful encouragement to defeat S in all its mystery and evil. She is "Someone to Watch Over" you while you help The Tessera.
Source:
Biography.com Editors. "Ella Fitzgerald Biography." The Biography.com website. A&E Television Networks, 30 Dec. 2016. Web. 10 Mar. 2017. <http://www.biography.com/people/ella-fitzgerald-9296210>.