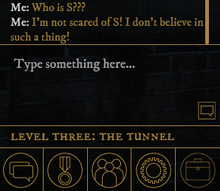 I was so stressed out on level three so I went on the live chat and publicly announced that I am not scared of S and that S is not real. However, within a minute after, I received a text from an "unknown" number..........
It was S!!! How did S get my phone number?!
This is really horrifying.
Don't make S get mad at you!!!