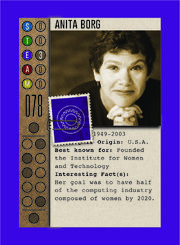 Anita Borg- A potent leader in Computer Science
In 1949, the year she was born, there were very few female computer scientists. This changed, as Anita Borg became one of the leading innovators in computer science. Not only did she become a computer scientist in a time where females were treated like specks of dirt, but she also took her own accomplishments to help other women see what they were capable of doing. Borg also founded the Institute for Women and Technology. She even sent out emails to other female computer scientists to encourage them and develop a sense of community amongst the women.  
Biography  
Unlike most women, from the early 1950's Borg grew up in a family that supported women's rights and education. Her mother was a stay at home mom for a good portion of her childhood; however, Anita's mom later started working for Boeing which must have given Anita and her sister the encouragement they needed in order to follow their dreams. As a child, Anita loved math and took a lot of math classes. However, when she started college in Washington she had no idea what she wanted to major in and just took all the classes that she wanted to take. She then took a break from college, got married, and moved to New York. During this time, she was confused about what career she wanted to get into. There is a time for everything and later on after hearing about computer processing from a friend she decided to major in it at New York University.  From the point, she started computer processing to the time of her death in 2003 she worked nonstop to develop new computational codes and help other women realize what they are capable of. 
Contributions to Tessera  
You can find puzzles inspired by Borg ingrained in many of the Tessera Levels. One of the main places, that this is seen is where you have to be innovative and make your own knob puzzles in order to unlock the elevator that gets you to the top floor of Horsley Towers. Skills similar to what she practiced can also be seen during the Mosiac tiles challenge in level three. Anita Borg is a reminder to all individuals that anything is within reach despite the social boundaries that society places on us (such as the idea of gender roles). 
To Find out more about her check out these sources I used:
 "Oral-History:Anita Borg." Oral-History:Anita Borg - Engineering and Technology History Wiki, ethw.org/Oral-History:Anita_Borg.
"Women Transform Technology." AnitaB.org, anitab.org/.